Influencer Generated Branded Content on Facebook is Changing
Facebook isn't necessarily the platform you think of when you think of Influencer Marketing. Instagram seems to pip them to the post for that, especially due to the platform's visual nature. However, Facebook is really stepping up their game. After announcing just over a year ago that they were introducing branded content capabilities and therefore encouraging influencer marketing, Facebook has also recently announced some new changes. These changes go further than simply requiring influencers to tag brands in their sponsored content. Now, brands are able to "amplify" influencer-generated content. They can also authorize which influencers are able to tag them. Only content from approved influencers and brands can be amplified.
Influencer-Generated Content
Previously, on Facebook, influencer-generated content wasn't used to its full potential. If influencer's created content for brands, the brand's only option was to re-post the content from their account or repurpose it as brand generated content. Or, just have it so that the post would reach the influencer's network, but not the brands. There was no way for posts to come directly from the influencer and also be promoted by the brand. The process meant that the brand would have to share the content, then boost it. There was no way to boost directly from the influencer and hit both the brand and influencer's audiences.
Effective influencer-generated content has the possibility to drive engagement far more than brand generated content. This is why influencer marketing is so popular. If people see recommendations coming from bloggers, celebrities or personalities they follow, they will trust the recommendation far more.
Once brands find the influencer-generated content they are tagged in, they can promote the post as if it was one of their own. The standard procedure of choosing an audience and geo-location is still undertaken. One of the new updates means that influencers now have the authority to decide which brands can promote their posts and for brands to specify which content creators can tag them in a post. Only the brand that an influencer tagged in a post can promote it as an ad, and only if the influencer checked the box to allow the brand to promote it.
Branded Content
When it comes to branded content, often influencers will tags brands even if the content is not sponsored. With the hope, the content will be spotted and picked up. Picked up content could then be used as user-generated content on the brand's social channel. Every influencer wants their content to be reposted, especially by big brands!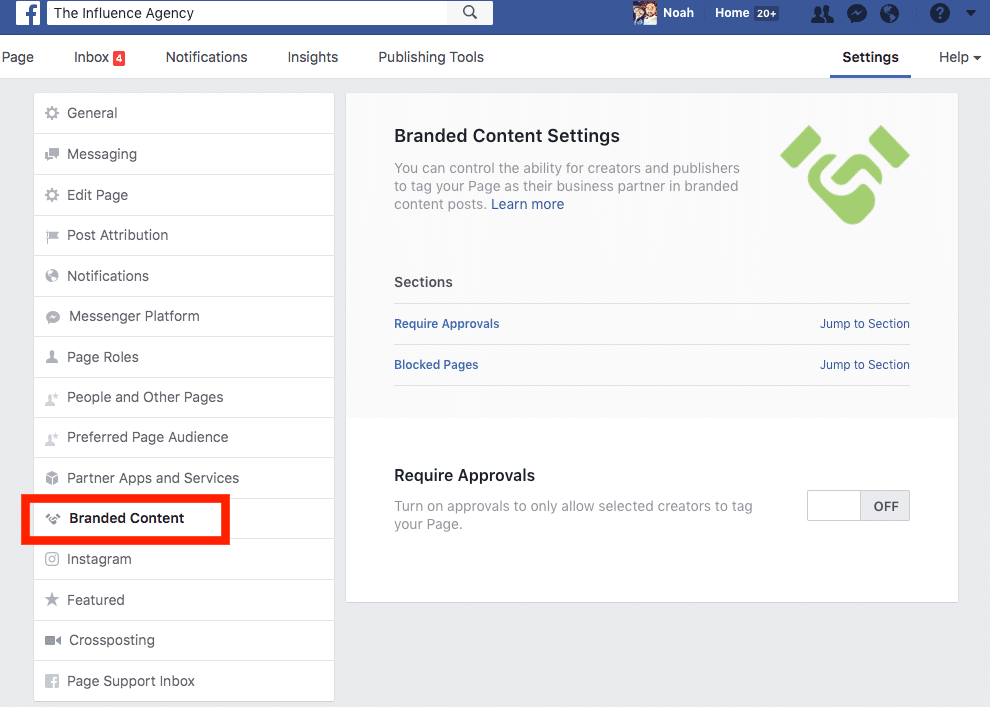 However, to avoid this potential risk to brand safety, Facebook now requires approval for branded content. In order to tag brand pages, there is now the option to "require approval" as well as the ability to block specific pages from tagging them in the future altogether. If you don't want an influencer to be able to tag your page, this is how you make sure they don't. It's important for brands to only be associated with verified influencers. Those that promote the same message and are carefully chosen by the marketing team.
If you're looking for help with influencer marketing, and want to understand how to use Facebook to further your digital marketing goals, get in touch.